The world is now a post-apocalyptic wasteland that has been ravaged by war for generations. Strap into your tank and protect what little you have in this world. Your tiny plot of land is full of fuel and all you have left. It is a resource which must be defended at all costs, but don't get lazy! You'll also have to venture out into the world to collect metal to use as ammo or to upgrade your tank. Yes, the world is against you, but, you have a tank.
How To Play:
Steer with the side arrow keys (or A and D) and accelerate with the up arrow key (or the W key). Left click to shoot your primary turret, and right click (or space bar) to shoot your secondary weapon if you have one. Collect metal by driving over it. You can get metal by shooting a metal clump or destroying another player. Be careful not to run out of fuel, or you will die. You can refuel by touching your base. Once you have some metal, you can touch your base to choose an upgrade for your tank.
Strategy:
Protect your base and don't stray too far from it. When starting gain metal from the metal clumps. You can be aggressive and destroy other players, or you can be peaceful and get metal from metal clumps (this will take more time).
Roter.io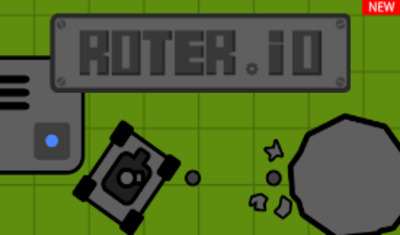 CATEGORIES
TAGS
STATS
Rated
74
% with 64 up votes and 22 down votes.
Submitted about 2 years ago.
Played 12 times this month.
SHARE THIS GAME