Schedios.io is a multiplayer free drawing game in which a player draws a sketch while the rest of the players try their best to guess what is being drawn.
Schedios.io is set in a jungle where animals get together around a tree to play the fun game of drawing and guessing. Players can choose from 50+ cute animal avatars.
All players in the game take turns to draw a word of their choice while others guess the word. Good drawing that other players can quickly guess and guessing others' drawings quickly gives more points. After a few rounds in each game, the player with most points wins the game.
Release Date
Developer
Schedios.io was developed by Applatoons.
Platform
Controls
Use mouse to select an animal avatar and username of your choice
Use mouse to draw when it is your turn to draw
Use brush to draw any color
Use brush size to change from normal, thick and thicker brush sizes
Use eraser to erase any part of the drawing
Use flood fill to fill color in shapes
Use clear to clear drawing i.e. start fresh
Use undo to undo your last drawing action
Use keyboard or touch (when onscreen-keyboard is on) to type and send you guesses
Click on any other player's animal avatar to like/pat them
schedios.io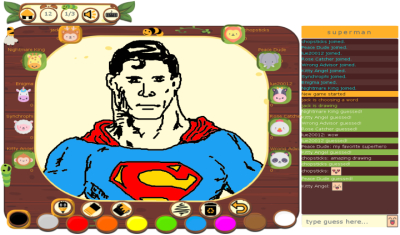 CATEGORIES
TAGS
STATS
Rated
100
% with 1 up votes and 0 down votes.
Submitted over 1 year ago.
Played 14 times this month.
SHARE THIS GAME