About Tanx
Tanx(pronounced tanks) is another cool tank themed io game, its easy to get into as the play style is very simplistic. You'll start on one of 4 teams and try to take out the enemy tanks by shooting them with your cannon. It is recommended to stay with your teammates in order to secure victory however if playing solo is more for you you'll also be able to do well.
How to play
In Tanx you play in a medium/small sized arena with 4 teams, this ensures fast paced games and a ton of action! Because of the easy nature of the game you'll find that you enjoy yourself from the very beginning because who doesn't love blowing stuff up with a tank?! Around the map you'll find repair kits as well as ammo packs if you take too much damage from enemy Tank or run short of bullets. Also there is a big shield power up in the center of the map although it is highly contested!
Controls
Your tank is controlled using the WASD keys and your cannon is controlled using the mouse.
Tanx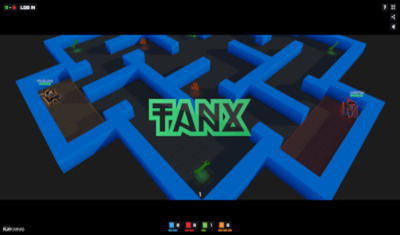 CATEGORIES
TAGS
STATS
Rated
67
% with 41 up votes and 20 down votes.
Submitted about 3 years ago.
Played 18 times this month.
SHARE THIS GAME